Are you ready to explore a career in the exciting world of industrial packaging?
Look no further, because we have an opportunity that might just be perfect for you.
An established industrial packaging company in Japan, is on the lookout for packagers to join their team. As an Industrial Packaging worker, you'll play a crucial role in ensuring that all packaging materials are well-prepared, items are safely loaded into containers, and meticulous records of shipments are kept. If you're someone who takes pride in their work and is eager to grow with a company, we invite you to keep reading.
This is your chance to take your career to the next level.
But before you apply, be sure to carefully review the job description, qualifications, and requirements to see if you're the right fit.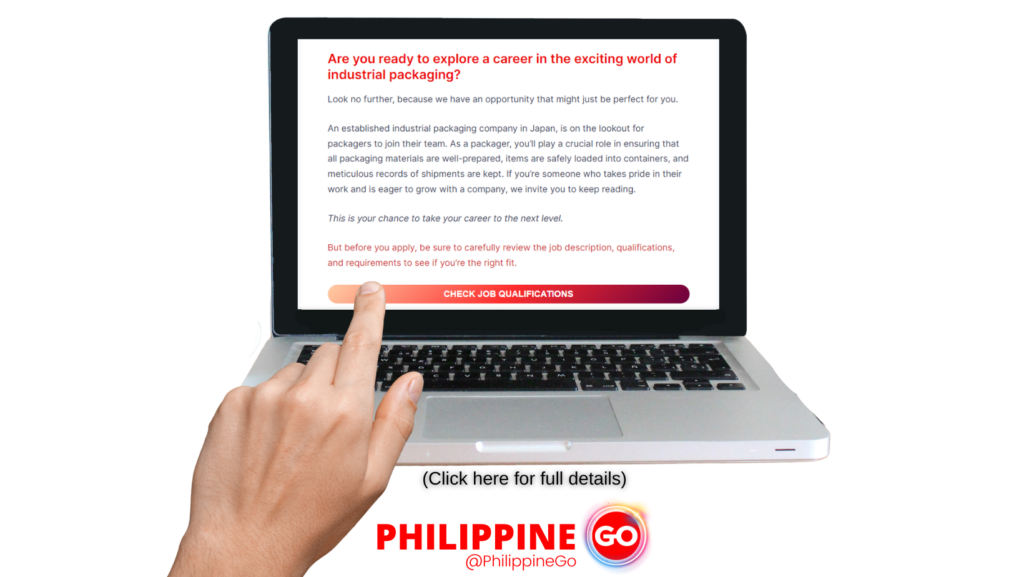 If you're interested in a career as an Industrial Packaging Worker, there are several requirements you must meet.
Firstly, you should have at least one year of working experience under your belt. Additionally, you need to have completed high school and should not have any visible tattoos on your body. You must also have a Certificate of Live Birth and be a first-timer in Japan.
If you meet these requirements and are looking for an exciting opportunity in the packaging industry, we urge you to apply for the Industrial Packager position today.
Don't wait any longer to kickstart your career in the Industrial packaging industry! Apply now for the Industrial Packager position by clicking the link provided or sending your updated CV and scanned documents to Chartreuse@cprsi.com.
If you have any questions, our recruitment agency is ready to assist you. Contact us through our direct line at (+632) 8 398 9048/8 643 7984, trunk line at (+632) 8 643 5400, or mobile numbers at 09176254193/09176253890. Remember to submit your application via email to ensure a prompt response from our team.
If you prefer to apply in person, visit us at 138 CPDC Bldg. Gen. Luna St., Brgy. Ususan, Taguig City, Philippines. Don't miss out on this opportunity to build a fulfilling career! Apply now and let's take the first step together.
Note that visiting the head office in person is the fastest way to receive feedback from the recruitment officers.
Seize this chance to kick-start your career and take your welding expertise to the next level!
Ultimately, please be reminded that this job posting is for informational purposes only, and any information contained herein belongs to its rightful owners. (Read Full)
You may click the "APPLY NOW!" button provided if you wish to proceed in applying. May you find the perfect opportunity that aligns with your skills, interests, and goals. BEST OF LUCK!
Source: Philippine Go